Bus Graphics, Fleet Graphics, Transit Graphics, Special Event Graphics, and Barricade Wraps in DFW, Texas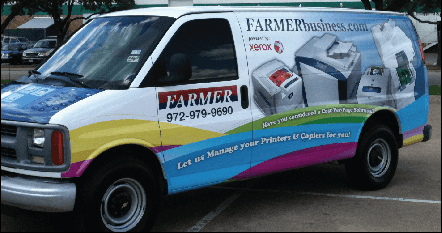 At Titan Wraps we help businesses in DFW create and install a range of graphics to advertise their businesses and services. Specializing in a range of graphics including barricade wraps, special event graphics, transit graphics, fleet graphics, bus graphics, and more, it's our goal to help DFW business owners maximize advertising dollars and get the most out of their commercial graphics that bring awareness to their mission, brand, and values!
Special Event Graphics That Grab Their Attention from Dallas to Fort Worth
Special events held by businesses need to make a statement. One of the most powerful tools for decorating a special event are special event graphics. Not only do special event graphics provide decoration, but they can also advertise your brand and display your company values in an obvious and straightforward way. No special event in DFW, TX should be without special event graphics for the occasion.
One common special event graphic is barricade wraps. Barricade wraps work not only as a form of advertisement but can shield esthetically displeasing areas that can put a damper on special events, and restrict guest access to certain private zones. Barricade wraps are often used at parties, music events, launches, and areas under construction.
Our team not only helps with aspects of design but the graphic installation of special event graphics and barricade wraps. Taking all of the proper precautions to ensure that your graphics are installed correctly, we ensure that your event goes off without a hitch and that your special event graphics are distinctive and jawdropping.
Fleet Graphics Design and Install in DFW, TX
The Dallas Fort Worth Metropolitan area is is a metroplex seated right outside of Dallas, TX. Known for its rich culture and diverse options in entertainment, DFW draws in visitors, residents, and business owners from all over the United States. Home to one of the biggest international airports in the nation, and the longhorn cattle trade, DFW entices visitors with classic western charm and lacks no options in entertainment. It's no wonder Texas business owners choose to establish their businesses in DFW, TX.
Our team of skilled professionals assists DFW businesses design and install transit graphics for their commercial vehicles. From bus graphics, fleet graphics and more, we help you maximize your advertising dollars on the go! In fact, transit graphics can help businesses in DFW reach a range of clients that may never have encountered your business before and entice potential clients on the go. From encountering bus graphics on public transportation to fleet graphics on the freeways, transit graphics bring awareness to your brand wherever you go.
---
For Vehicle Wraps, Printing and Graphic Design, Wrap Installation and Fleet Graphics, Contact Titan Wraps today.
214-901-6703