Retail Graphics, Window Graphics, and Wall Graphics in DFW, Frisco, Dallas, Plano, TX, and Surrounding Areas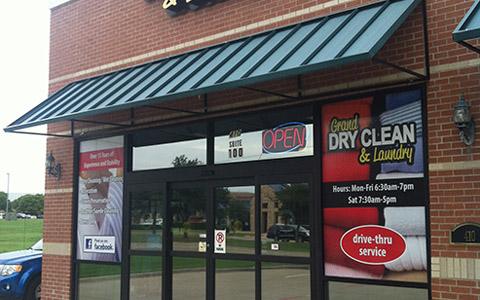 Retail graphics have proven to be an effective form of outdoor advertisement for businesses both big and small in Texas. By drawing customers to your door, wall graphics and window graphics can send a powerful message to customers and potential clients and convey the message of your company values with a single visual aid. Smart retail businesses in Plano, Frisco, Dallas, and the surrounding areas utilize retail graphics to advertise their business and grow their client base.
At Titan Wraps we help businesses in DFW, and the surrounding areas, design, and install wall and window graphics that make a statement and effectively advertise your brand. From simple designs to complex retail graphics that take up entire store window space, it's our goal to help you find the right graphics at the right price.
Window and Wall Graphics
At Titan Wraps we know that window and wall graphics are a powerful tool, which is why we take the utmost care and attention to detail in all aspects of retail graphic design and installation. From carefully crafted graphics to displaying your company logo, it's our goal to help you get the most out of your graphics and draw customers to your door. We provide endless opportunities in customized retail graphics for businesses in DFW, Frisco, Plano, and areas closeby.
Wall Graphics- Wall graphics are typically used as a visual aid in offices, stores, buildings, and even homes. With a broad range of wall graphic options, you can use wall graphics to promote your brand, enhance the look of your building, or inspire guests.
Window Graphics- Window graphics is an ideal retail graphic tool that can be installed for long-term or seasonally. From pictures to phrases and promotions, stores utilize window graphics as an affordable form of advertisement.
Retail Graphics for Businesses
Retail graphics are one of the most popular forms of advertisement for store owners due to their affordability and quick installation. By increasing your brand awareness with retail graphics, you can bring customers to your door and grow your business. Smart Texas business owners use retail graphics to pique curiosity and intrigue potential customers.
At Titan Wraps we assist store owners in Plano, Frisco, Dallas, DFW, and the surrounding areas, design and install customized retail graphics to enhance their businesses and advertise their brand. Working with your budget and your requirements we make your dreams a reality by giving you quality retail graphics at an affordable rate!
For Vehicle Wraps, Printing and Graphic Design, Wrap Installation and Fleet Graphics Contact Titan Wraps today.
214-901-6703