Building Wraps and Super Graphics in DFW, Dallas, Plano, Frisco, TX, and Surrounding Areas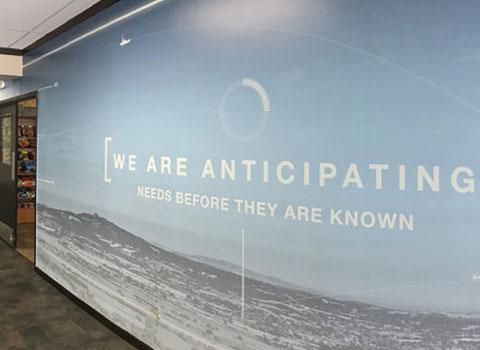 We know that making a statement is important. But when you're a business owner finding new and creative forms of advertisement can be a challenge. One of the best ways to make a statement for your business is to equip your building with supergraphics and building wraps that are unique and distinctive.
At Titan Wraps we work with residents and business owners in DFW, Plano, Frisco, and Dall create an install attractive building wraps and super graphics that make a statement and leave onlookers in awe. By getting to know you and your business personality, our team of expert designers works closely with you to develop customized graphics that are unique and attractive.
Super Graphics That Make a Statement
Super graphics are a large-scale environmental graphic feature that can be applied to traditional and large open spaces to create unique and distinctive spaces. With options in wall, floor, and ceiling installation, super graphics can create the illusion of altered realities and leave visitors and customers in awe. Not only are super graphics used as a form of advertisement, but businesses and public areas often utilize super graphics to enhance the overall aesthetic of certain locations.
Over the years we've kept up with the latest trends and technologies when it comes to designing and installing super graphics. With a team of professionals dedicated to helping you get exactly what you desire, our workers at Titan Wraps assist you in transforming spaces both big and small through quality and distinctive super graphics. When it comes to super graphics there are four main components to consider. Our experts combine their expertise in typography, design, color composition, and vernacular to help Texas businesses create custom super graphics that make a statement.
Building Wraps for Commercial Properties
For years buildings have used building wrap advertising to promote their brand and bring awareness to various issues and events. Building wraps are typically printed on PVC banners that are so massive that they can either partially or entirely wrap around buildings of various sizes. By using wind resistant materials, building wraps outlast the elements and act as an enticing form of advertisement.
Commercial properties in Plano, DFW, Frisco, Dallas, and the surrounding areas, trust Titan Wraps for their building wrap needs. Working with you and your budget, our team of designers helps you create the custom building wrap design that you desire at a price that you deserve. To learn more about building wraps and other services, call us today.
For Vehicle Wraps, Printing and Graphic Design, Wrap Installation and Fleet Graphics Contact Titan Wraps today.
214-901-6703