Special Event Graphics and Barricade Wraps in Plano, Frisco, Dallas, DFW, TX, and Surrounding Areas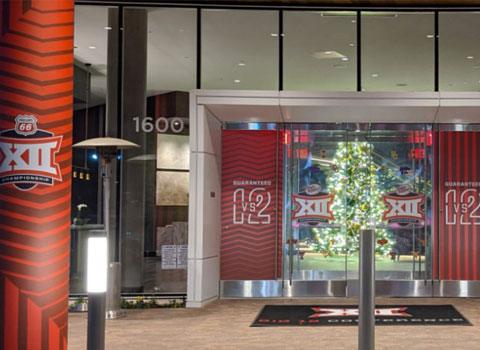 At Titan Wraps we help you get the most out of your special event graphics and barricade wraps for your business in Plano, Dallas, Frisco, DFW, and the surrounding areas. Working with your budget, we assist in all aspects of design and installation to bring you quality and affordable designs that make an impression.
Special Event Graphics to Brand the Space
For years smart business owners in Texas have used special event graphics to enhance special events and ensure the brand promotion of sponsoring businesses and enterprises. Not only do special event graphics bring awareness to your brand, but they also make special events look great and more professional.
At Titan Wraps we work with you and your budget to find the right special event graphics that suit your special event and enhance esthetic. By making your event more appealing and professional, our design team has years of experience working with businesses in Plano, Dallas, Frisco, and DFW, TX to create customized special event graphics for a range of special events that include but are not limited to:
Launches
Grand Openings
Music Events
Seminars and Conferences
Sporting Events
Award Ceremonies
Trade Shows
Parties
Festivals, and more!
Barricade Wraps Design and Installation
Barricade wraps are the name given to large vinyl signs that are installed on barricades that are created to block views and public access to certain areas. Construction sites often use barricade wraps to advertise upcoming buildings and limit access to certain areas that can be hazardous to the general public. Construction sites are also a popular place for barricade wraps to hide ugly and unappealing areas still under construction that can be an eyesore. However, construction sites aren't the only location where barricade wraps are used. Barricade wraps are often used at festivals, large events, and parties to limit public access and advertise brands.
At Titan Wraps we not only help Plano, Frisco, Dallas TX, and the surrounding areas design attractive barricade wraps, but we assist in all aspects of installation as well. We know that barricade wraps can be a powerful tool that not only makes areas look more attractive but can begin to rally up business before an area is even fully constructed. With the utmost attention to detail and an eye for design, our team of designers works with you to create barricade wraps that are unique and distinctive. We know that barricade wraps are often the first encounter that customers have with your business, which is why our goal is to equip you send the right message to your future customers!
For Vehicle Wraps, Printing and Graphic Design, Wrap Installation and Fleet Graphics Contact Titan Wraps today.
214-901-6703