Truck Graphics, Trailer Wraps, Car Wraps and Car Graphics for Dallas TX
If you have a business in Dallas, Texas vehicle wraps can make a world of difference. If the term is not familiar to you, a car wrap or truck wrap is a graphically designed vinyl wrap. A skilled technician can create the vehicle wrap and apply it to your commercial fleet. When you see vehicles on the roadways that you can't keep your eyes off of because they display stunning graphics, you are looking at a vinyl car wrap or truck wrap.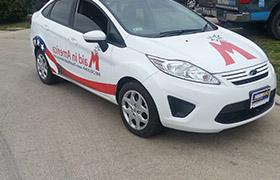 Everyone is well aware of the value of advertising, but many smaller businesses are concerned about the costs. Plus, even large businesses with advertising budgets are going to be cost-conscious, and this is as it should be. With this in mind, many people would argue that Dallas, TX van wraps, truck wraps, and trailer wraps are the most cost effective form of advertising that you can possibly buy. First of all, you make a single investment, and you have ads running for as long as the vehicles remain on the roadways. This is a truly unique opportunity in the world of ad placement.
The efficiency that you get when you make a small investment in vinyl wraps is another benefit. It costs money to keep your commercial vehicles on the roadways, and most people chalk the red ink up to a necessary operating expense. Things are entirely different if you make a commitment to vinyl car wraps and truck wraps. Each moment that your vehicles are out and about on the roadways, the costs are being offset by the advertising benefits. In essence, when you utilize Dallas-Fort Worth TX vehicle wraps, you have a fleet of mobile billboards spreading your message around town at all times.
Your Dallas, Texas Car Graphics Resource!
Here at Titan Wraps, our business success is tied to the success of our Dallas-Fort Worth, Texas vehicle graphics customers. We sincerely want our clients to succeed, and we do everything possible to make their businesses recognizable on the roadways. Integrity is important to us, and to this end, we offer maintenance programs. Many companies want their car wraps to deteriorate so that they can apply new ones. Conversely, we want to extend the lives of the car wraps and truck graphics that we provide for our customers.
If you would like to speak with one of our Dallas, TX vinyl wrap experts, call us right now at 214.901.6703.
---
For Vehicle Wraps, Printing and Graphic Design, Wrap Installation and Fleet Graphics, Contact Titan Wraps today.
214-901-6703