Retail Graphics, Wall Graphics, Super Graphics, Building Wraps, and Window Graphics in Dallas, TX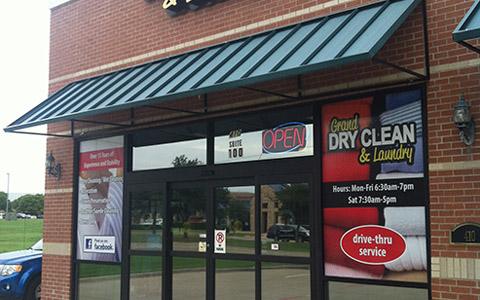 We work with businesses both big and small in Dallas, Texas to create practical and affordable advertising graphics that bring awareness to your brand and adds flavor and texture to your building or office. With a range of different styles, textures, and colors we offer super graphics, retail graphics, window graphics, building wraps, wall graphics and more to help you advertise your business and impress potential clients.
Retail Graphics in Dallas
When it comes to retail graphics, the most popular form is window graphics. Window graphics not only can be installed for long-term, but that can also be changed easily to advertise certain events, promotions, and sales that you're retail business is having. By utilizing your store window space, window retail graphics are not only attractive but a practical option for stores in Dallas and the surrounding areas.
Our team of skilled designers has years of experience in creating attractive retail graphic designs for Dallas businesses. Working with your vision and the latest technologies and trends in window graphic advertisement, we help you with the installation and design of your retail graphics that are bold, practical, and impressive. At Titan Wraps there's no retail graphic job too big or too small for our team of skilled experts.
Building Wraps and Wall Graphics for Dallas, Texas, Businesses
Dallas, Texas is home to a broad range of attractions including vibrant shops, restaurants, and more. With a rich history and an art district full of thousands of years of art history, Dallas not only is a great place to visit, but it's a great place to live and start a business. From fortune 500 companies too small family-owned businesses, Dallas, Texas is a massive cultural hub that makes up a large portion of Texas and the USA.
Dallas businesses often use building wraps and wall graphics to advertise their business and add a splash of color and flair to attract potential clients. Utilizing super graphic technology, building wraps can encompass certain sections or entire surfaces of Dallas buildings both big and small. Building wraps are not the only form of super graphics that make an impact. Wall graphics can cover interior and exterior walls from head to toe. In some cases, wall graphics can even be installed to the ceiling or certain floor surfaces to create an altered reality that's sure to impress visitors and clients.
At Titan Wraps, we help business owners in Dallas and, the surrounding areas, design and install super graphics such as building wraps and wall graphics. Working with your budget and your vision, we help you make your dreams a reality at a price that's affordable to you. No matter what the job, we help you find the right graphics that your clients will be talking about for time to come.
---
For Vehicle Wraps, Printing and Graphic Design, Wrap Installation and Fleet Graphics, Contact Titan Wraps today.
214-901-6703