Are you looking for ways that will further spread more brand awareness for your business? Well, good marketing strategies are the need of the hour because the market has become extremely competitive nowadays. Regardless of the industry you are catering to, one of the smartest solutions for you would be vehicle graphics. Are you wondering why? Well, you can reach out to a wider mass of audience with this marketing tool because a vehicle can act like a mobile billboard. It will advertise your products and businesses wherever you go. We, at Titan Wraps, can offer you several kinds of vinyl wraps for card, trucks, or van. Usually, people opt for a big vehicle to promote their products. Opt for the van or the truck wraps and send the message to your prospective customers about what yourself. We are an experienced and reputed company known for our high-quality and brilliant designs along with custom printing facilities. So, if you are from areas such as Carrollton TX, Dallas TX, DFW, Frisco TX, Lewisville TX, Plano TX, you can resort to us.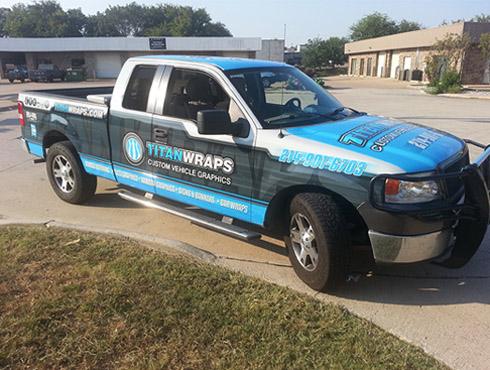 Here, we have put together a few things to keep in mind while planning your vehicle wrap. Take a look.
First of all, you should make sure your brand name is present and the contact details are correct. There has to be a call to action or CTA that you would want your target audience to take note of. Make sure the instructions are clear and correct.
Now you have to make sure that the look and feel of the wrap is also appealing and impressive. Therefore, choose the color scheme and font style appropriately and make sure that the design and layout is not clumsy. Avoid writing too much because it is a moving vehicle and your readers will only have a few minutes to read it.
So, without further delay, quickly contact us today for buying our vehicle wraps.