Nowadays, business advertising is not just restricted to conventional forms of marketing but is expanding every day to reach a wider set of audience. If you also have a business, and want to try out newer ways of reaching people, then do not just think about making a fleeting impression, but a lasting one. And for this, vehicle advertising like van wraps have lately become one of the most popular ways of marketing one's business. Whither you need a car wrap, a van wrap, a truck wrap or a fleet wrap, you can find new and customized designs everyday with the most affordable of prices. And what's more, because it is a mobile way of advertising, you can be sure that your brand name is spreading to new areas every day. If you want to try it out too, then come to us at Titan Wraps, where we offer the most unique ways of advertising your business in a vehicle with a range of options within. If you need such services in or around Carrollton TX, Dallas TX, DFW, Frisco TX, Lewisville TX, Plano TX, etc. then look no further.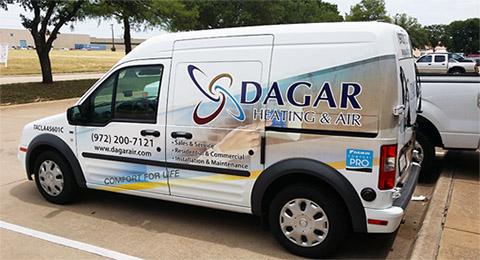 Below are two benefits of vehicle wraps:
Eye-catching
Since these wraps are very brightly colored and textured, you can easily make sure that they stand apart from the other vehicles on the road. This is what essentially makes people catch at least a glimpse of the business you are advertising. Not only will other drivers notice your well-designed car cover, but also other pedestrians on the road.
Non-aggressive:
The other major advantage you will be getting with this wrap is a non-aggressive form of advertising. What this means is that you do not have to cause any disturbance to catch people's attention. In fact, you can count on people to look at your vehicle without much distraction. Since most customers respond better towards a more mellowed form of advertising, it is definitely a wiser and more practical way to market for the audience nowadays.
So, if you are up for such vehicle wraps, then contact us today!