Are you thinking of an effective, affordable and one-time installation way to market your business? Then look no further because all you need is simple van wraps. People don't normally give attention to boring plain white vans on the road. But bright, attractive and colorful car wraps are sure to grab attention and make your company stand out from the competition. Not only do they serve the purpose of marketing your business everywhere you go, but they will also protect your vehicles from wear and tear.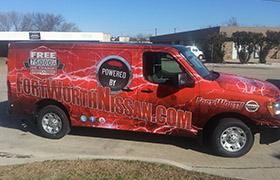 At Titan Wraps, we strive to provide quality and beautiful designs which will make your business stand out. We do not compromise on quality when we promise you affordable and quality material for our car wraps. We provide our services to Carrollton TX, Dallas TX, DFW, Frisco TX, Lewisville TX, Plano TX and neighboring areas. If you are from any of these areas, contact us today.
Here are some more benefits of van wraps:
Reach a wide audience
You can reach up to tens of thousands of people just by traveling around in your vehicle. Depending on the number of vehicles you have and the number of places you go to, you can even gain more audience in just a single month as compared to other forms of advertising. There are many businesses who gain more customers with their car wraps more than they do on their websites.
Non-aggressive advertising
Other forms of advertising such as print ads, radio or television interrupt a person immediately and can be really annoying at times. However, vehicle wraps don't take this "in your face" approach to advertising and thus reach potential customers better. You can send out your message to people subtly without interrupting people on the way.
So, if you are interested in our services, contact us today.