Have you started a new business venture? Then you must be looking for innovative ways to advertise your business. Unique forms of advertising can truly help you get more clients and customers. If you really want to make your brand name soar in this generation, then you should definitely try van wraps. Advertising has never been easier thanks to this amazing new technique. Not only does it cover a wide audience base, but makes sure that it promotes your business in an efficient but affordable way. So, if you want to jump in on this bandwagon too, then you can rely on us at Titan Wraps. We can enhance your marketing technique by multiple folds by offering your company with bold designs, attractive graphics and durable wraps. However, we never forget to take in our clients' ideas into consideration. With the presence of highly-talented graphic designers, we aim to turn your dreams into reality. So, if you need such services in places like Frisco TX, Carrllton TX, Dallas TX, DFW, Lewisville TX, Plano TX, etc. then we can help you in with it.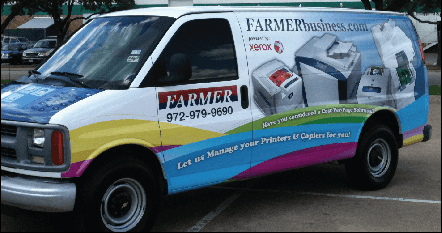 Here are two things you must keep in mind before choosing a van wrap company. Have a look.
Designs and Colors
The company you choose should have enough knowledge in providing you with assistance on designs for your advertising endeavor. Additionally, they should have bold new colors for wraps so that you can successfully make your brand name stand out from the crowd.
Cost
Van wraps can be a great way of sprucing up your advertising. It is also easily changeable. However, you should have a budget in mind before you settle for a company. While it should not be too expensive, make sure that it doesn't cross your budget. Either way, a single application should last for a significant amount of time.
Don't know where to start? Then dial 214-901-6703 and we'll take it from there.