Titan Wraps can help you with a vinyl car wrap in Carrollton TX, Dallas TX, DFW, Frisco TX, Lewisville TX or Plano TX. They are specialists in this fields and they know how to transform your vehicle into an effective and powerful marketing machine.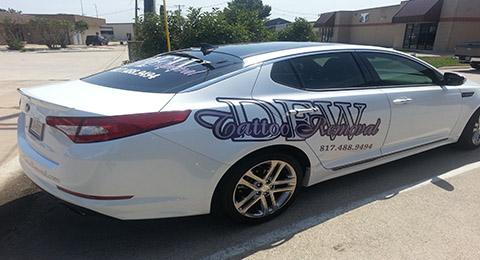 A vinyl wrap can be applied to any vehicle, not only cars. So if you have a service truck you can have it wrapped. If you have a delivery van, you can have it wrapped. If you have a trailer you can have it wrapped. The team at Titan can apply a vinyl warp to nay type pf vehicle. Be it a car, a truck a van, a bus, a trailer or a boat.
The team at Titian know how to produce a vinyl car wrap that is not only a thing of beauty, but also a powerful marketing and branding tool. They use best quality vinyl and cutting-edge equipment and technology. Their creative team also has a flair for design and innovation and they know what will work and what wont.
A vinyl car wrap is not expensive and only takes a few days to complete. You will be surprised how affordable vehicle wrapping is. In addition, you will recover your investment in no time at all. The process of design, production and installation only takes 2 or 3 days. Apart from the marketing and branding benefits, a vinyl car wrap also protects the surface of your car or vehicle. When you no longer need to the wrap, you can have it removed without damage.
A high-quality vehicle or car vinyl wrap can help take your business to the next level. The team at Titan Wraps are ready to help you with a beautiful and innovative car vinyl wrap.