Window Graphics, Retail Graphics, Wall Graphics, Super Graphics, and Building Wraps in DFW, TX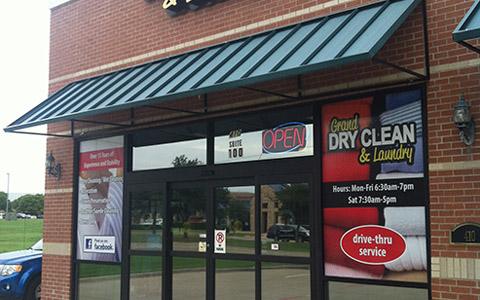 Our team of skilled designers at Titan Wraps helps businesses in DFW design and install distinctive and attractive graphics for their businesses big and small. Specializing in a range of different graphics including retails graphics, building wraps, super graphics, and more, it's our goal to help you bring awareness to your brand and grow your client base by utilizing graphic advertisement.
Special Event Graphics That Grab Their Attention from Dallas to Fort Worth
Retail graphic design is one of the most important forms of advertisement for retail stores. Coming in the form of wall graphics and window graphics, retail graphics are a great form of advertisement for external and internal spaces
At Titan Wraps, we help DFW businesses create and install the retail graphics that make a statement and draw customers to their doors. Unlike massive building wraps, retail graphics are much more subtle wait to advertise your retail business and entice potential customers. We offer design and graphics installation for a range of retail graphics that include but are not limited to:
Window graphics- window graphics give you the option of a seasonal or year-round advertisement on the surface of your store window. Window graphics can be a powerful tool in getting customers through the door and advertising special events and promotions.
Wall graphics- wall graphics are often installed on the interior of retail stores and offices, making wall graphics a great form of interior decoration and brand awareness.
Fleet Graphics Design and Install in DFW, TX
The state of Texas embodies the values and charms of Western culture, and DFW is no exception. As a main part of the Dallas Metropolitan area, DFW is not only the hub for culture and economics in Texas, it's a hub for successful businesses. Located in DFW are the headquarters of various Fortune 500 companies and small mom and pop shops, making DFW a land of opportunity for businesses just starting out, and those who want to flourish. DFW allows business owners to claim their slice of the American dream in a city with endless charms.
Everything is bigger in Texas, so why would your advertising graphics be an exception? At Titan Wraps we assist DFW, TX businesses in all aspects of design and installation of super graphics. With graphics that cover larger surface areas, we can help you create and develop super graphics that cover floors, walls, and ceilings for a bold and big look. Super graphics and business wraps make advertising unavoidable, as all onlookers in DFW have no choice in encountering your super graphics. Everything is bigger in Texas, why not join the trend?
---
For Vehicle Wraps, Printing and Graphic Design, Wrap Installation and Fleet Graphics, Contact Titan Wraps today.
214-901-6703