Vehicle Wraps, Car Wrap, and Vinyl Car Wrap in DFW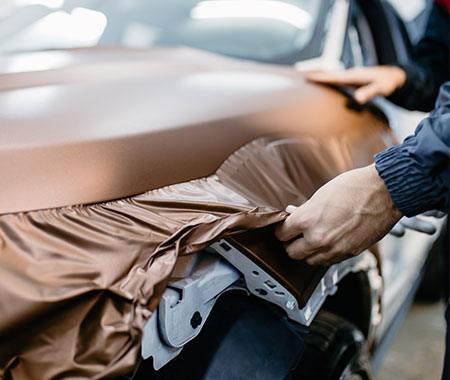 Do you own or manage a business in the DFW area and wonder how you can get your marketing message remembered? Titan Wraps has a solution for you. We provide high-quality vehicle wraps, car wraps, and vinyl car wraps that are fully customizable to fit your marketing needs. With our eye-catching vehicle wraps, you are bound to get the attention of potential new customers. Your message will be noticed and remembered with this unique advertising opportunity. Our experienced creative team can bring your brand, images and marketing ideas to life on a custom vinyl car wrap. We will even come to your location for a consultation to make it convenient for you.
Van Wraps and Truck Wraps for the DFW Area
Not only do we create car wraps, but we also make van wraps and truck wraps. Your vehicle wrap can promote your service when your company van or truck is out doing business or even parked in a parking lot. Our team will work with your branding and your marketing idea to develop it into eye-popping graphics. We then print it and install the graphic on your vehicle, and handle any maintenance it may need. We use the best materials that are very durable. Our installation team is experienced and meticulous. Whether it is car wraps, van wraps or truck wraps, we pride ourselves on the high quality of our product and workmanship.
Your DFW, Texas Car Wrap Resource!
Titan Wraps can handle your other graphics and printing needs, in addition to car wraps and truck wraps. If you need signage for your storefront, such as posters or banners, we have you covered. If you need signage for a trade show or other printed materials, we can provide them for you. We are proud to provide our graphics services, including vehicle wraps, car wrap, vinyl car wrap, van wraps, and truck wraps, to local businesses. The DFW area is a great environment for all types of businesses, large and small. From the hair salons, dental practices, florists, churches and car dealerships, Titon Wraps supports them all. Feel free to contact us with questions and to set up an appointment for a free quote by filling out our online form on our website or by giving us a call at 214-901-6703.
---
For Vehicle Wraps, Printing and Graphic Design, Wrap Installation and Fleet Graphics, Contact Titan Wraps today.
214-901-6703