Special Event Graphics, Fleet Graphics, Transit Graphics, Bus Graphics, and Barricade Wraps in Dallas, TX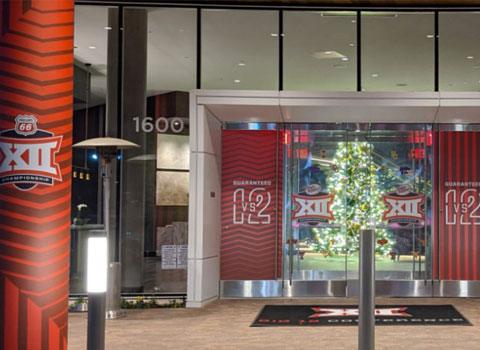 One of the most basic and simple ways to advertise your business is through the use of graphic advertisements. Graphics can be added to virtually any surface for maximal advertisement function. From buildings, vehicles, banners and more, the options are endless.
We assist Dallas businesses in creating a range of graphic designs that include bus graphics, fleet graphics, barricade wraps, special event graphics and more. With a team of skilled designers, we help put your visions to action and advertise your business in a practical and fun way.
Bus Graphics and Van Graphics
When it comes to advertising your business you should exhaust all of your options. Often times Dallas business owners forget that they have untapped marketing space on their personal vehicles and company vehicles. Fleets, buses, and other transit vehicles are an ideal place to advertise your business and bring brand awareness to your business. With all the different locations that your vehicle travels on a daily basis, you may be able to reach an array of potential clients that you may have never considered before.
We assist in all aspects of graphics installation and design of fleet Graphics, bus graphics, car graphics, and a range of other transit graphic options. We know that transit graphics are a powerful tool, which is why we take the utmost care and attention to detail when creating fleet graphics and bus graphics for your company. From simple logos, listing company values, and charming animations, our custom transit graphics are sure to make an impression and impress potential clients on the go.
Special Event Graphics Design and Installation in Dallas, Texas
As a popular Metropolis in Northern Texas, Dallas is home to a range of different businesses and attractive residential areas. Encompassing 1/4 of the entire population of Texas, it's no wonder why so many business owners and families choose to call Dallas, Texas their home! Not to mention, Texas has been named one of the best places to start a business in the nation, and doing so in Dallas is a great place to start.
At Titan Wraps we help businesses with special events development and install special event graphics for there important affair. From launches, work parties, grand openings, and more, we create special event graphics that make a statement and impress your guests. Some common forms of special event graphics include but are not limited to, banners, barricade wraps, and posters. For whatever your vision, we help you create impressive special event graphics that enhance your event, bring awareness to your brand, and make your dreams a reality.
---
For Vehicle Wraps, Printing and Graphic Design, Wrap Installation and Fleet Graphics, Contact Titan Wraps today.
214-901-6703