Vinyl Wraps, Vehicle Wraps, Car Graphics, Vehicle Graphics, Van Wraps, Truck Wraps, Truck Graphics, Trailer Wraps and Car Wraps for Carrollton TX Residents
If you are searching the Internet looking for car wraps, van wraps, or vehicle graphics in Carrollton, Texas, Titan Wraps can and will exceed your expectations. When you do the research, you find that the majority of business startups don't succeed over the long haul. There are many underlying reasons, but one of them is the fact that far too many people have ideas, but they don't have passion. The driving force behind Titan Wraps is Justin Lowe, our founder. He does have a passion for vehicle wraps that help Carrollton, TX businesses get their messages in the minds of people in the area. Vinyl wraps have proven to be extraordinarily effective, and satisfied customers spread the word when they watch their bottom lines increase. This is how you continue to establish your business.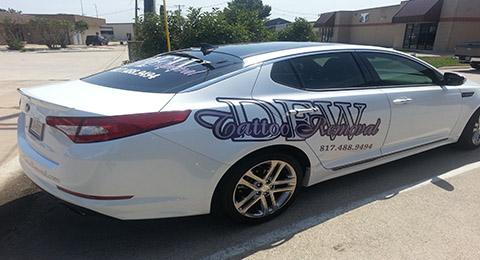 When we are talking about satisfied clients, our car wraps, truck graphics, and van wraps are driving results for all types of area businesses, both large and small. Our client list includes highly recognizable companies like KFC, La Quinta Inns, Liberty Tax Service, and Bell Helicopter. We are also proud to provide vehicle graphics for the State Fair of Texas. We certainly value these high profile customers, but we are a small business in our own right. Our company takes a lot of pride in the services that we provide for locally based companies as well. When you partner with us, we can put our expertise to work to help you brand your business and apply compelling graphics to your vehicles.
We believe in customer satisfaction, and we also place an emphasis on professional integrity. Our Carrollton, Texas car wrap and truck wrap customers are our lifeblood, and we want to develop long-term relationships. There are companies that are happy when they make an initial sale, and that's really all they care about. This is not the way we operate at Titan Wraps. We go the extra mile to get to know our customers and gain a full understanding of the messages that they want to convey. Vehicle graphics can be used to make statements in different ways, and we make sure that we understand exactly what our customers want. In the end, they can go forward with designs that reflect who they are.
If you would like to speak with one of our Carrollton, Texas car graphics consultants, call us right now at 214.901.6703
---
For Vehicle Wraps, Printing and Graphic Design, Wrap Installation and Fleet Graphics, Contact Titan Wraps today.
214-901-6703