Truck Wraps, Van Wraps, Vehicle Graphics, Vinyl Car Wrap, Vehicle Wraps, Vinyl Wraps and Car Graphics by Titan Wraps in Plano TX
For car graphics, trailer wraps, truck wraps, and vehicle graphics Plano, Texas can rely on Titan Wraps. We specialize in vinyl wraps that get the attention of potential customers. If you have never considered the value of vinyl wraps for your commercial vehicles, all you have to do is look around you to gather evidence. All of the most successful companies that have commercial fleets on the road take advantage of virtually unlimited advertising opportunities through the utilization of trailer wraps, car wraps, and truck wraps.
Why do companies with huge advertising budgets that can include television ads bother with vehicle graphics? The answer is a simple one: they work. Your vehicles are going to be out and about every day, and when the vehicles are parked, or stopped at red lights, there is a captive audience. Your truck wrap, van wrap, or car wrap will automatically attract attention if it is expertly designed by a Plano, Texas vinyl car wrap company that understands advertising psychology. Titan Wraps is that type of vehicle graphics resource.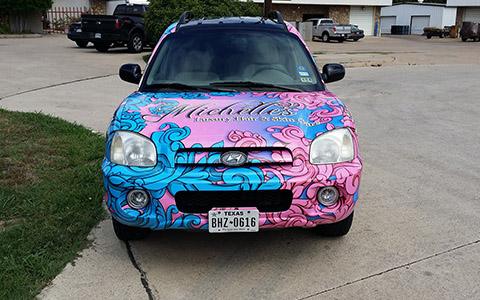 Branding Is Our Specialty!
If you are running your own business with vehicles out on the roadways, you clearly understand the industry that you are in. Everyone has an area of specialization, so you are good at what you do, but you may not know a lot about business branding. This is our area of expertise, and our Plano, Texas vehicle graphics designers can work with you to understand how you want your business to be displayed to the world. Ultimately, you can go forward with a dynamic graphic depiction that people equate to your product or service as they continually see this eye-catching image on the roadways. Plus, even if your original motivation is to to create a graphic design that can be turned into car wraps or truck wraps, the branding initiative can reach further. We can also use our designs to create retail graphics including wall wraps, storefront signage, tradeshow signs, and more.
We are here to help if you are ready to transform your business image through the utilization of vinyl car wraps and truck graphics. Call us right now at 214.901.6703 to speak with one of our knowledgeable Plano, TX car graphics experts.
---
For Vehicle Wraps, Printing and Graphic Design, Wrap Installation and Fleet Graphics, Contact Titan Wraps today.
214-901-6703