Special Event Graphics, Retail Graphics, Bus Graphics, Super Graphics, and Barricade Wraps in Plano, TX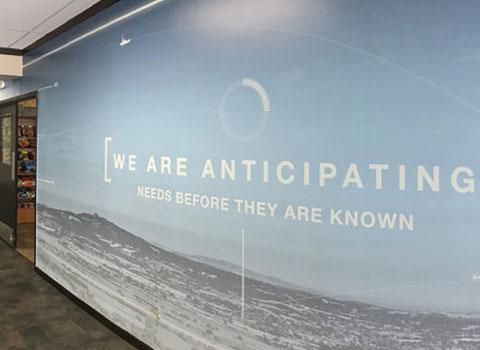 At Titan Wraps we understand that your advertising dollars should go towards something incredible. This is why we assist Plano, Texas businesses with graphic design and installation services that are affordable, professional, and impressive. Working with your specific requirements and your budget, we help you create a range of different business graphics that include but are not limited to:
Transit Graphics (Bus Graphics & Fleet Graphics)
Special Event Graphics
Barricade Wraps
Retail Graphics (Wall Graphics & Window Graphics)
Building Wraps
Super Graphics
Wall and Window Graphics in Plano
Wall graphics and window graphics have proven to be a great form of advertisement for a range of stores including retail stores. Retail graphics, such as window and wall graphics, can be installed for long-term or short-term to advertise sales, grand openings, special events and more.
Window graphics and wall graphics are also used in offices to enhance the overall look of office buildings and provide decor, color, and texture. For Plano, TX businesses who want to amp up their office or advertise their store, wall and window graphics are just the way to do so. We even help with special event graphics that can be installed on walls and windows for a day.
Transit and Fleet Graphics in Plano
Transit graphics are a great way to advertise your business on the go. Transit graphics may include fleet graphics and bus graphics that travel on the roads of Plano, and the surrounding areas. Fleet graphics and bus graphics often times have greater reach than simple barricade wraps or wall graphics that are planted in a single location. For smart business owners that value creativity and versatility, transit graphics are a great way to get the word out about your business.
Building Wraps for Plano, Texas, Businesses
Plano Texas is a modern city in North Texas with a rich heritage and history rooted in the 19th century United States. With a broad range of museums, it's no wonder why so many visitors choose to explore Plano, TX. However, Plano has also proven to be a wonderful place to raise a family and start a business, which is why it continues to grow in population daily.
At Titan Wraps we assist Plano, Texas businesses with super graphic designs and graphic installations that include building wraps, barricade wraps, special event graphics, and more. With building wraps that can wrap-around buildings entirely, you cannot only advertise your business but special events and important messages to the general public. It's our goal to help you create super graphics that make a super impression.
---
For Vehicle Wraps, Printing and Graphic Design, Wrap Installation and Fleet Graphics Contact Titan Wraps today.
214-901-6703