When you think of advertising, you would want something that is both affordable as well as eye-catching. And this is exactly what can be delivered by car wraps. One of the most effective methods of advertising any business, this method makes mobile marketing possible by converting any automobile into a billboard. In contrast to fixed forms of ads, with this method, you can reach a wider and more diverse market. The mantra is quite simple- since it is mobile, you can reach new people every day, whether it is by making deliveries, shuttling people or performing a service call. If you need such a convenient but useful form of advertising for your business, be it a car wrap, van wrap, fleet wrap or truck wrap, look no further than Titan Wraps. With our experience and highly trained individuals, we will help your business soar. So, if you live in areas like Carrollton TX, Dallas TX, DFW, Frisco TX, Lewisville TX or Plano TX, then come to us at the earliest!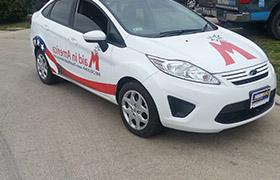 Here are two things that you need to keep in mind after purchasing a car wrap:
Removal of the Wrap
Yes, car wraps are removable. But it is advised to get it professionally removed, even if you have a heat gun. If you want to get it removed yourself, remember that without the skill, you might damage the original paint on your vehicle. Thus, only trust skilled and experienced professionals to do the job for you.
Maintenance
The longevity of the car wrap, like any other thing, ultimately depends on the maintenance. However, in this case, it also depends on the quality of installation. Vehicle wraps in general last about four to seven years. You can easily clean it with a special cleaning agent and a soft cloth once a week, and then following it up with a silicone sponge wipe to preserve its quality and sheen.
To know more about such maintenance techniques, call us at 214-901-6703 today!