Are you the owner of a somewhat old vehicle? Are you looking to change its appearance in an inexpensive and quick way? If the answer to the above questions is a yes then you could look in car wraps of various materials. We, at Titan Wraps Custom Vehicle Graphics, bring you a wide variety of choices in a range of prices and colors. We are widely known for our ability to change a regular vehicle into something that is eye-catching. Whatever be the type of vehicle you own, we have a product for you. We take into account your budget and your vehicle type before making our suggestions. We, thus, show a level of concern for our customers that is hereto unparalleled in the market. Our specialty lies in our ability to customize products as per the requirements and the visions of our customers. This has made us a highly popular choice in and around the areas of Carrollton TX, Dallas TX, DFW, Frisco TX, Lewisville TX, and Plano TX.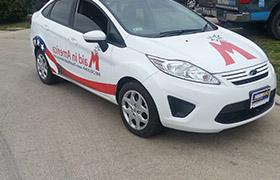 Here, we have put together 3 types of covers that you can buy for your vehicle. Take a look.
Tattoos are one of the most recent concepts in the vehicle covering industry. It involves the use of certain chemicals and sprays that implement the prints on the body of the vehicles. These are waterproof and highly weather-resistant.
You can opt for certain designs that involve prints such as pictures of wildlife and other scenery. These enhance the look of your vehicle and impart it to its uniqueness. These also help protect your vehicle against a rough climate.
If you like certain quotes by famous people, now you have that printed on your vehicle. It is something that can define your tastes and preferences. You can team this up with photographic prints of the people who are credited for the quotes.
So, if you want to give your vehicle a new look, get in touch with us as soon as possible.