Mobile marketing has been the trend everywhere in the world these days. What attracts the passerby is the affordable and eye-catching car wraps used to convey a message. Titan Wraps Custom Vehicle Graphics know that portable car wraps have a far more reaching effect on the public than stationary billboards. Unlike other vehicle wraps our products can withstand wind, rain, and intense exposure to ultraviolet sunlight, and even pollution which makes them a pretty low maintenance product. We, at Titan Wraps, help the people of Dallas, TX, DFW, Frisco, TX, Carrollton, TX, Plano, TX, and Lewisville, TX save cost and time as with our vinyl covering you do not have to depend on a re-wrapping session in the near future.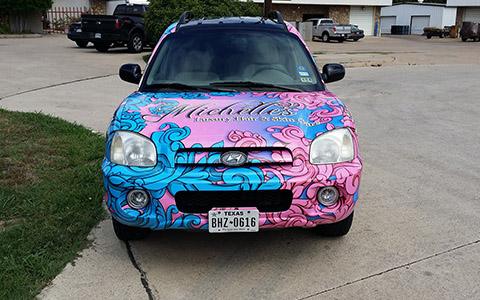 Below we have mentioned a few steps taken by our company while wrapping your vehicle. Take a look.
We always make it a point to listen to a customer first before coming up with our own design. Once we gather your thoughts, we get a clear idea of what you want and this helps us produce the right graphic for your car.
Once we print your graphic on premium vinyl with our state of art format machines we apply a second clear layer over it which is known as lamination. This helps in permanently binding the graphic to your vehicle thus ensuring the long life of your prints. The lamination also protects your Prince from any external threat.
Surface sanitation and installation
It is very important to get a smooth, travel-free installation of the wraps on your vehicle. For this, you have to ensure that you are vehicle body is free from dust, moisture, and other weather contaminants.  Then in a controlled environment, our experts apply the wrap on the surface of your vehicle.
So, if you're looking for a car wrap that will stay for a long duration, you can get in touch with us at 214-901-6703.