In today's world, wherever you go, you will see some sort of advertisement or the other. It is very important that you are unique and creative with your advertisements in order to stand out from your competitors. Truck wraps are a good form of advertisement strategy that will increase your sales and improve brand awareness. These truck wraps can last for years with proper maintenance. With little to no effort, this sort of advertising can prove to be very effective for your business as it has a lot of benefits.
At Titan Wraps, we provide you with a range of design and material options to choose from. We believe that every business is different so we try to understand your business better before we start doing anything. Our range of truck wraps includes full wraps, partial wraps, and vinyl lettering. We provide our services to Frisco TX, Carrollton TX, Dallas TX, DFW, Lewisville TX and Plano TX. If you are from any of these areas, feel free to contact us today.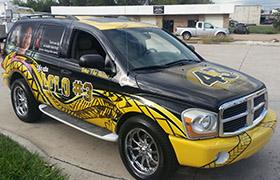 Here are some more benefits or truck wraps advertising for your business:
Loud televisions, radio and internet ads can be very aggressive to most people. However, vehicle wraps are not loud and won't overwhelm your audience. It also shows that your company is well established and successful. As such, it gives a good first impression to prospective customers.
Unlike other forms of advertising, you do not have to keep on changing your vehicle wraps. You only have to pay for the upfront cost and not worry about any ongoing costs. The graphics will also last for years with proper maintenance. This means that you will be getting years of exposure just for one set price.
So, if you are interested in our services, contact us today.