Are you the owner of a business that is involved in making deliveries? Do you own a van for this purpose? We, at Titan Wraps Custom Vehicle Graphics, bring to you innovative ways in which you can use your commercial vehicle to do more than just deliver your products. We bring to you a range of items like car wraps, van wraps, graphic designs, and vinyl wraps, all of which can be customized for your needs. We have been in business for more than a decade and have used our years to gain experience. This has allowed our customers living in and around the areas of DFW, Frisco TX, Lewisville TX, Carrollton TX, Dallas TX, and Plano TX, to trust us with their car printing needs.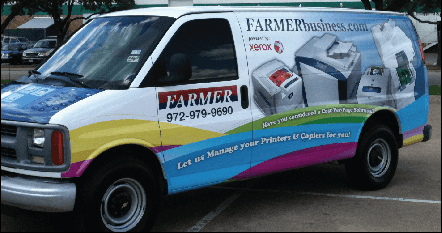 Here, we have listed 3 ways in which you can use this type of a wrap to enhance your business opportunities. Take a look.
Advertisement

for

Your Business
For a business that uses a vehicle, putting a wrap on it containing basic information about the business itself like what it does, where it has offices, and contact information can be very useful. An automobile covers distances by road and can easily catch people's eye. Adding bright colors and putting a face on the wrap can have additional advertising benefits.
Protection for Your Vehicle
It is needless to say that any vehicle that you use for your business must have protection. Wraps prevent overheating and protect the outer parts of your van from scratches. It is a cheap form of protection but can be crucial, especially if your vehicle has to navigate through rough terrain.
If for any reason you choose to change your business or change the contact information on the wrap, you will want to remove the wrap. Getting this sort of a wrap will be the suitable one to go for since it is easy to remove and has low costs of replacement.
So, if you feel your car needs to have a wrap put on it, get in touch with us, without further delay.