Are you looking for ways to promote your business? But do you have budget constraints? Then probably, you will be looking for a business promotion tool that will be effective and yet will not cost you a lot. What you should do is go for signage solutions. A unique idea would be to choose a vinyl car wrap to advert about your production services or the kind of message that you would want to send across to your target audience. Since the car will move from one place to another, more and more people will be able to view your message and will learn about your brand, it can do a lot of good to your business. We, at Titan Wraps, can be the right choice for you. We are an established and reliable company which has been in this field for more than 11 years. We can provide you with all kinds of retail graphics and vehicle wraps. We are known for our variety of products suitable for all kinds of customers along with our customer-oriented approach. So, if you are based in areas like Frisco, TX, Dallas, TX, DFW, Plano, TX, Carrollton, TX, or Lewisville, TX, then you can opt for us.
Here, we have put together a few things to check about the vinyl car wrap if you want to use it for your brand promotions. Take a look.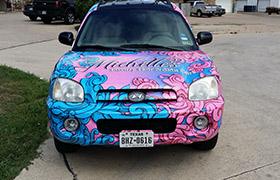 First of all, you should focus on the size of the wrap. You should make sure that it is suitable for the card that you're going to use for brand promotions. Measure the area first and then place your order. Also, have an idea about this sort of message, brand name, and any image that you would want to include in the advertisement to get a better idea of the size of the wrap you will need.
Budget plays a key role whenever you are planning your marketing strategies. You have to check the rates in advance so that you do not cross your budget. For this, you should take quotes in advance from different companies and compare them with others to choose wisely.
So, if you are thinking of choosing us, contact us today.